This is my first trip into the Ravelry Rabbit Hole to do a round up of patterns for Banshee Yarns and I was lucky to get back out … which is always the case with Ravelry. There are always endless patterns to choose from and it's hard not to get lost.
Here are a few ideas you might like! I always recommend swatching when substituting : )
Garment
Pattern: Gridlines by Susanne Sommer
What is not to love about a SoSu knits pattern and this is glorious. For this, as always, I would recommend alternating skeins to ensure even spread of colour.
https://www.ravelry.com/patterns/library/gridlines-3
Colourway ideas: Airgead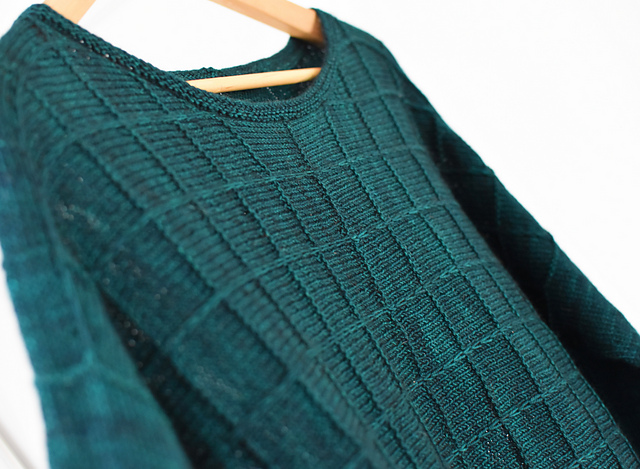 Picture copyright Susanne Sommer, from Ravelry
Socks
Pattern: Simply Lacy Socks by Michelle Gregory
I hope it's ok to recommend one of my own patterns for Yak Sock. I'm currently knitting my Simply Lace Socks pattern in Echo and I love how it's coming out. The lace is a very simple 3 stitch repeat over 4 rows that is easy to memorise and the stitch definition of the Yak shows the pattern really well.
https://www.ravelry.com/patterns/library/simply-lacy-socks
Colourway ideas: Echo but any, depending on your favourite sock colour
Lacey Socks in Yak Sock
Cowls & Shawls
Pattern: Filigree by Julie Knits in Paris
Having seen a number of samples of this pattern at Woollinn Dublin earlier this year, it is just the most glorious wrap! I'd be happy to knit this in either our Silky Singles or in Yak Sock, with the Yak Sock giving it more stitch definition and more robustness than the Silky Singles but it's a close run thing!
https://www.ravelry.com/patterns/library/filigree-13
Colourway ideas: Dorcha, Airgead, Gorse & Rua
Image copyright Julie Knits in Paris, from Ravelry
Pattern: Rochambeau Cowlette by Carina Spencer
I'm not sure how I found this pattern but I just love how it can be knit in both variegated and semi-solid yarns, has a low yardage requirement and includes multiple yarn weight options.
https://www.ravelry.com/patterns/library/rochambeau-cowlette
Colourway ideas: Pick your favourite ; )
Image copyright Carina Spencer, from Ravelry
Crochet
Pattern: Transposition by Joanne Scrace
I only dabble in crochet but this pattern from The Crochet Project looks just glorious and would be a great match for our Yak Sock base.
https://www.ravelry.com/patterns/library/transposition-2
Colourway Ideas: Nightmare or possibly Apocalypse
Image copyright Joanne Scrace, via Ravelry